Issue #8: The 12 Shoulds of Christmas
From relationship drama to people-pleasing, your most common festive pressures unpacked with advice from the experts.
In the spirit of Yuletide giving, I've removed the paywall and made this post free for all subscribers - so come one, come all! However, just a reminder that I'll be running a guided journalling session on Zoom for paid subscribers at midday on New Year's Eve– so if you want to support my writing, continue to receive subscriber-only content from The Shoulds, and start the year in a frankly fabulous, intentional fashion, then do upgrade your subscription today. 
I have a complicated relationship with Christmas. It starts with the build-up: the tinny jingles in Tesco Express ('Santa Baby' is particularly offensive). The slow creep of capitalism that suddenly accelerates before I've even thought about present-buying. The way I revert to being a 31-year-old teenager the moment I enter my parents' house. The cultural head-fuck of being a secular Jew who annually forgets to celebrate Hanukkah, yet has never had a Christmas tree. While I enjoy Christmas day itself, December feels strangely fraught, like I'm constantly doing something wrong. 
I know I'm not the only one. Even my sunniest-spirited friends have confessed to similar reservations, like developing festive fatigue halfway through the succession of 'we-must-catch-ups' they've scheduled in and secretly wishing they could hunker down with an unseasonal Scandi-noir series'; or spending weeks dreading a four-day Monopoly fest with their in-laws in West Yorkshire. 
'It's ironic how much pressure we feel to be in a relationship while celebrating the birthday of Jesus who, as I understand it, was still single at 33.'
What we find most difficult, it seems, is the expectation. The picture-perfect notion of how things should be: gift guides in national newspapers listing £75 'stocking fillers', knitwear-clad extended families in the Waitrose advert; snow that doesn't melt (or cause motorway closures); gourmet feasts that don't require any washing up; endless merriment around a fireplace. 
And that isn't the reality, is it? Things aren't black and white – or red, green and white. From undercooked turkey, to squabbling families – to recent bereavements, or job losses, or break-ups – there's a lot we can't control. That feels particularly valid after two years of lockdown restrictions, where festive plans have been basically 'TBC' up until the day itself.
This year, I've found a solution: I'm calling it the Meat Trifle approach. It's inspired by a scene from Friends, where Joey reacts to Rachel's botched attempt at a Thanksgiving trifle which (due to a recipe confusion) contains a combination of custard, jam, raspberries, ladyfingers… and minced beef sautéed with peas and onions. The other characters, understandably, turn their noses up at it. But Joey's reaction?
'Custard, good ... jam, good ... meat, GOOD!'
Expectation is the root of all heartache – as someone, not (as often-cited) William Shakespeare, nor the Dalai Lama, and definitely not Santa – once said. Your Christmas might look different to 'everyone else's'. In fact, all of our Christmas look different to everyone else's – because no family is quite as normal as they look. Even if the family in question has matching festive jumpers, or attends an annual carol service, or features a newborn baby Jesus stand-in, there's always an element of complex Meat Trifle.
And maybe it's through letting go of the expectations of how Christmas should be – by breaking down the constituent parts and thinking, 'This isn't half bad' –  that we can truly feel gratitude for what it is. OK, perhaps you don't 'Wish it could be Christmas everyday'; perhaps that's a real-life horror movie scenario. And perhaps Christmas Day looks drastically different to when you were a child, or even how it did last year, but likely there's still goodness to be found there. Potentially, Christmas is just a nice day off work with some people you care about, where you get to eat a quirky kind of poultry. 
In the spirit of this newsletter, I've been quizzing you all on social media about your most common Christmas 'Shoulds', in a bid to address them and part with some of those difficult expectations in time for the big day. If you relate to the below, it will soothe you to hear that many of the same 'Shoulds' came up time and time again. I've also added insights from some of my favourite experts: life coach Gemma Perlin, clinical psychologist Dr Marianne Trent and psychotherapist Liz Ritchie.
1 'I should answer questions I don't want to' 🙋
From inquiries about if and when you're having children to interrogations related to your job or romantic life (I speak on behalf of all single people when I say we all dread this one), the fear of undesirable questions can cast a dark shadow over the festive season – and it's easy to forget that you're allowed to have boundaries around vulnerable topics.
Just remember that, as much as asking questions is allowed, so is responding with one of the following answers:
'Thanks for asking, but that feels too personal to discuss.'

'Can we change the subject? I'd love to hear about XX' 

'Splendid thanks, how's your marriage/job/sex life?'

'I don't know' (in the case of discussing children/getting married/if you'll be promoted etc)
2 'I should be relaxed' 🧘‍♀️
Because getting stressed isn't Christmassy, is it? Even when you're cooking turkey-for-twelve and the 12th person just declared they've got vegan. Personally, I'd recommend just remembering to do your thing – whether that's meditation, a walk, 15 minutes on a video game, whatever – make sure you fit in a short session of whatever keeps you calm, and remember it's the best gift you could give to everyone else.
'Plan at least two moments a day of regular check-ins where you scribble down anything that feels heavy, then take five cycles of conscious breathing. This means breathing out for longer than we breathe in, ideally breathing in for 3 and out for 6 is the fastest technique to feeling more relaxed.'
- Gemma Perlin
3 'I should be in a relationship' 👫👭👬
It's ironic how much pressure we feel to be in a relationship while celebrating the birthday of Jesus who, as I understand it, was still very much single at 33. Anyway, it's a common 'Should' – not helped by the sheer amount of proposals around this time of year – which is a shame because, as I wrote in a recent column for Flash Pack, this is actually a great time to celebrate all the platonic relationships in your life.
'This pressure comes from a distorted belief system that being in a relationship equals a happy Christmas. Instead, focus on embracing the positives of being single – like making your own choices about how you're spending your festive season – rather than rejecting it in favour of something you don't have at this particular time.'
- Liz Ritchie
4 'I should be more grateful' 🙏
Another popular one. Obviously, we've got my Meat Trifle philosophy, but for those who expressed this 'should' around receiving gifts, here's some pragmatic advice from Dr Marianne Trent (disclaimer: approach with politeness, caution and a bit of bravery):
'Adult Christmases can be disappointing! Not all families appreciate that it's OK to ask you what you might like and instead go for mind reading, which can cause dissatisfaction and resentment. It's OK to be honest and to ask for a receipt so that you can get yourself something you'll like better.'
5 'I should be able to make small talk' 💬
Again, this came up a lot. Turns out we all hate chit-chat. 
Solution: speed-read Dale Carnegie's How To Win Friends & Influence People (you can read this summary). And/or do the following: 
'Give yourself self-compassion and don't feel the pressure to talk to everyone. Try navigating towards smaller group conversations, or individuals you feel comfortable with.'
- Liz Ritchie
6 'I should be a better gift-giver' 🎁
There were many nuances for this one, including 'I should buy more than one gift', 'I should hand-make all my gifts', 'I should be more thoughtful'. To be honest, no one can match what this guy did, so I think we can all mutually accept defeat:
'If you find yourself battling complicated feelings of guilt, sadness or embarrassment about someone's gifts then maybe next year you can ask if there's anything they'd like or if in doubt reach for a trusty gift card.'
- Dr Marianne Trent
7 'I should be around people all of the time' 👨‍👩‍👦‍👦
Would you be around your extended family – or indeed anyone – for 12 straight hours any other day of the year? No. Do we pressure ourselves to do it on Christmas day? Yup… Treat yourself to some alone time. Excusing yourself for a nap, or a bath, or even just a walk around the block is perfectly acceptable if you're feeling in need, and you'll likely come back a much better person to be around. Just use the magic word: alonement.
8 'I should worry less' 😩
Worrying about Christmas usually comes from a good place. However, we also know that no one likes a stressed host, so we resolve to be a bit more chillaxed this year, as another festive season rolls around. Hence, feeling guilty about feeling guilty…
The answer? Delegation, delegation, delegation – and letting go. 
'Mentally give others permission to look after their own needs. This might mean that they can ask for a drink or something to eat if you're hosting but that you're free from 'checking in' and making individual arrangements. You can't please all people all of the time but you can cause yourself a lot of anxiety if you try to.'
- Dr Marianne Trent
9 'I should feel less guilt around food & drink' 🍽
Suffice to say, as much as we're told it's socially acceptable to indulge in a feast, many of us still struggle with our relationship with food… and then feel guilty for, er, feeling guilty. Again. It's a minefield.
'We often eat a differently around Christmas, we are out of routine,  but if we can lean into enjoying ourselves and sharing meals knowing it's a part of this time of year it will allow ourselves to let go. Know you have the power to turn down the volume on those guilty feelings. Tell yourself firmly and kindly "It's OK" when those thoughts of guilt pop up.'
- Gemma Perlin
10 'I should have a perfect relationship with my family and/or partner' 💞
Yeah yeah, we get it, all the adverts show families and couples sitting harmoniously around a table enjoying each other's company. But in reality, let's face it: many Christmases look a lot more 'Fairytale of New York' than they do 'fairytale', and often that's aggravated by the pressure we pile on ourselves to pretend otherwise…
'We have a tendency to impose unrealistic expectations on ourselves and others on Christmas. But tensions run high at this time of year, as we face unwelcome guests and the added relationship pressures in the form of shopping, cleaning, cooking and the pressure to entertain. Make peace with that reality – and remember this is not the time to air grievances or have difficult conversations.'
- Liz Ritchie
11 'I should be having a more "Christmassy" day' 🎄
If you've ever found yourself in a mad panic over…
'Is my tree tall enough?'

'Have I got enough tinsel?'

'I swear I bought Snowman napkins!'

'We need more photos!'
…then you've fallen victim to the nebulous 'should' of feeling Christmass-y.
'Do bear in mind Christmas is just a social construction. Pressure and conflicting demands does not equal joy and festive cheer. Even the perfect image on social media likely had 18 outtakes and people cursing under their breath even as they grin for the camera. However you want to spend your Christmas, even if that is by yourself ordering a takeaway, is totally OK if you're happy with it.'
- Dr Marianne Trent
12 'I should please everyone (by catering to their food and drink needs)' 🥘🍷
Personally, at this stage of my life, Christmas is a breeze; I can't even begin to imagine the pressure on new parents, or in-laws, or matriarch/patriarchs to host the 'perfect day', with various criteria. But the people-pleasing instinct is real over the festive season, particularly as a host or parent, and apparently manifests in the form of overfeeding your relatives.
The Shoulds by Francesca Specter is a reader-supported publication. To receive new posts and support my work, consider becoming a free or paid subscriber.
'Retailers would be delighted with the idea that you 'should' buy more food and drink but it is likely that you already have enough. As long as you cater for specific allergies or intolerances then quit whilst you're ahead unless you want to be eating leftovers and festive chocolate into March.'
- Dr Marianne Trent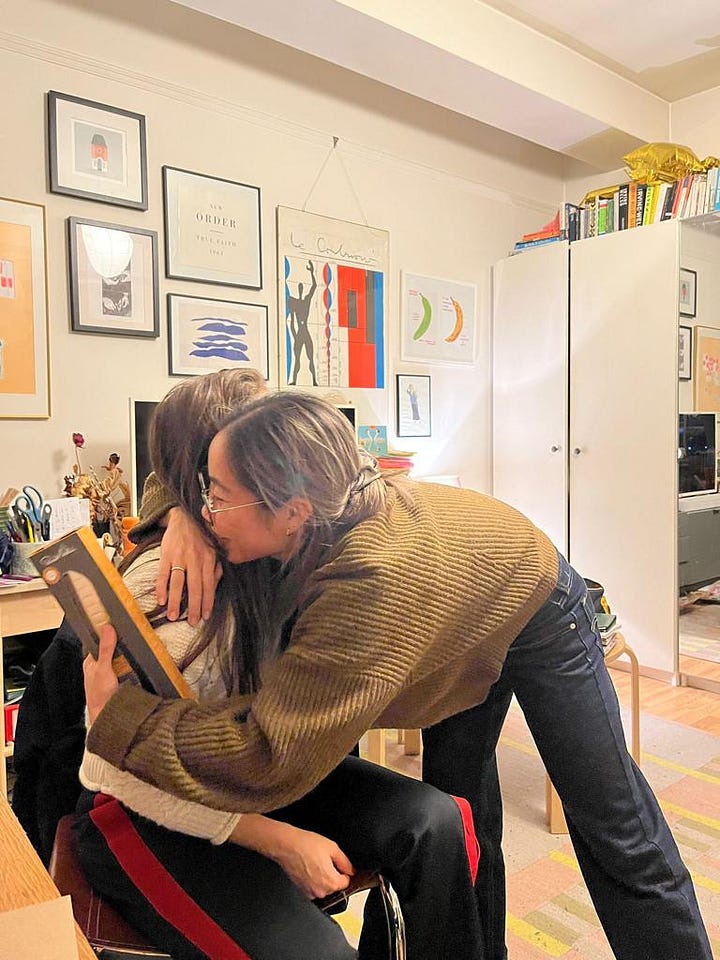 I can happily-report that since my return to London I've done almost nothing worthy of sharing on social media, aside from buying my friend a giant chef's knife for her birthday (there's sort of a back-story) which was the most gleefully thirty-something gift exchange yet. Over the weekend, I adored reading about Lena Dunham & her husband Luis Felber in The Times' Relative Values series, and started watching Sharon Horgan's Bad Sisters with my mum – who else has been watching? If you fancy some irreverent non-festive television, I highly recommend it.
Next week's theme…
Something New Years-y 🥂